Nick Young is ready to make it easy on the Los Angeles Lakers' search for a new coach. The man better known as Swaggy P is prepared to wear multiple hats, a la Bill Russell.
On Wednesday, Young announced on Twitter that he's willing to be the Lakers' new coach, which is the most Swaggy P thing we can think of.
I'll be the new coach

— Nick Young (@NickSwagyPYoung) May 7, 2014
Talk about a team player. But really, can we make this happen? Swaggy P calling the plays and dishing to Kobe? This has "30 For 30" written all over it.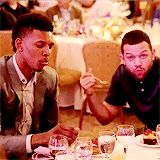 Pau approves.
[Giphy]