12 reasons why Kliff Kingsbury should melt hearts as next 'Bachelor'
Case Keenum is calling for Texas Tech head coach Kliff Kingsbury to be the next heartthrob on "The Bachelor," which is an idea that we are all for. I, for one, have never been interested in watching the show, but throw the NCAA's most swaggerish coach on there and I'm setting the DVR to "record all."
In order to lay out why Kingsbury would be the perfect fit for the show, we threw together a handful of reasons to dangle in front of ABC.
1. All Kingsbury does is win.
2. If he can talk to dolphins, imagine what he can do with the ladies.
3. Even bobblehead doll versions of Kingsbury have mad swag.
4. The show is due for another quarterback.
5. His fashion is just as impressive as his good looks.
6. This game deserves more fame.
via @CorkGaines
7. He doesn't forget about the little guy.
8. Kliff Kingsbury or Ryan Gosling? This is reason alone for him to be on the show.
9. He embraces "Suns Up, Guns Up."
Just got my "Suns up, Guns up" painting finished for my office!! Incredible work by my friend Dave Grizzle. pic.twitter.com/beUyq8P75f

— Kliff Kingsbury (@TTUKingsbury) June 17, 2013
10. He wears his emotions on his sleeve.
11. Can I interest anyone in a Johnny Manziel cameo?
12. Just deal with it.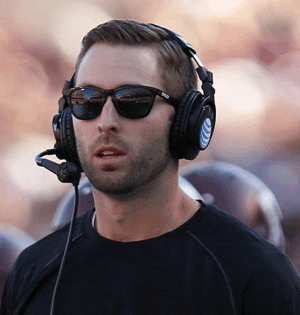 via GIPHY