Close your eyes, Bayou Bengals, because you're not going to like what you see here. Les Miles was spotted at the University of Texas' campus on Thursday in a history class.
More than just Presidents on the 40 Acres today. @LSUCoachMiles is currently sitting in a UT history class. pic.twitter.com/inInjzDrHe

— Longhorn Network (@LonghornNetwork) April 10, 2014
Now, before you go getting your panties in a wad, LSU fans, Miles' daughter is a swimmer at UT. With spring practice in the books, the Mad Hatter appears to be getting some family time in.
Let's be honest, does this guy look like he bleeds anything but purple and gold?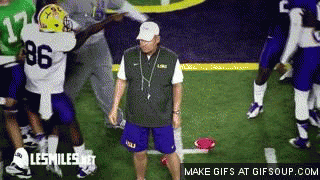 On second thought …