Apparently Mark Richt is one hell of a bowler. I'm sure this has been known for years, but I'm just catching wind of it, and it's rather impressive. Having your own ball at home is usually a sign that you're pretty good. But two balls? Well now, that's taking the hobby to an entirely different level.
During a Q&A with Michael Carvell of AJC.com, 2014 linebacker recruit Bryson Allen-Williams talked about how good of a bowler Richt is.
Funniest memory with Mark Richt? "When we were playing basketball at his house, Coach Richt was trying to teach me how to shoot. I'm not that good at basketball, and Coach Richt was out there trying to play and he just had a hip replacement. Coach Richt said that I blocked my own shot because I put my hand in front of the ball when I shoot. He told me to move my hands to the side a little bit. We also went bowling, and he had his own ball and everything. You're a serious bowler if you bring your own ball. He had like two balls, and somebody was carrying them. I think it was one of his sons. Coach Richt is a terrific bowler. He was coming off his hip surgery and bowled like a 300."
That Richt can roll, man.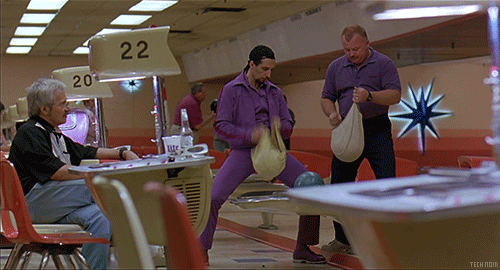 [GIF]