In case all the bad baseball wasn't enough to scare New York Mets fans away from Citi Field, now the team is employing dinosaurs.
Wednesday was actually Dinosaur Education Day at Citi Field, which is a pretty awesome promotion for an afternoon summer game. Kudos to that little girl because if I was standing that close to a moving, snarling dinosaur it would've been shitstain city.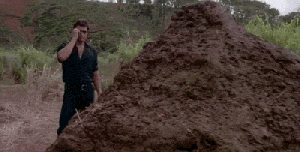 Looking to go to a game? Check out Razorgator for a post on Mets tickets in 2014.