So, yes, I am a Florida Gators fan, but I love SEC football as well. My best friend and I actually have a pact/goal of seeing every SEC stadium before I turn 40 on May 3, 2025. There's no better conference in college football to me, and there's no conference more steeped in passion and enthusiasm than the SEC – period.
The pomp, paegentry, and antics of college football season in the South will soon be upon us. We'll welcome back Verne and Gary, curse at Gameday, and drown our sorrows and toast our teams in bars across Dixie in a few short weeks.
So, with that in mind, I thought I'd take a stab at some bold SEC predictions "From The Cheap Seats" for this upcoming fall.
1. Will Muschamp keeps his job at Florida …
Last year was a disaster for the Florida Gators. His team had more injuries than some countries have in fighting a war, and suffered a humiliating home defeat to FCS member Georgia Southern en route to the program's first losing season since 1979. Yet, with the roster deep in talent and hungry to right the ship, Muschamp leads Florida back to respectability, a decent bowl game, and keeps his job. If he doesn't beat Georgia, though, whether his team ends at 7-5, 8-4, 9-3, or 10-2 and Muschamp might be sitting at home with Ron Zook come 2015.
2. … but Bret Bilema does not at Arkansas.
No, no one thinks Arkansas will win the SEC Championship or College Football Playoff. If Florida fans think there was no bigger mess to clean up post Urban Meyer, look no further than Fayetteville. Between Bobby Petrino's ill-fated motorcycle ride with a co-ed to the always interesting, oh-too-short reign of John L. Smith, the proud Razaorback program has been a circus. And then Bret Bielema face-planted last year. With a 3-9 record (and some embarrassing blowouts under his belt), if Hogs don't get back to the 5 game threshold in 2014, Bilema will be off to Cancun with his hot body in 2015.
3. Tennessee makes some noise and goes bowling …
You don't recruit the way Coach Butch Jones has and not make noise eventually. And that's exactly what he did with a win over nationally ranked South Carolina at Neyland Stadium last season – Tennessee's first since 2009. The Vols will have a 1,000 yard rusher in Marquez North, and they return Justin Worley at QB who has shown flashes of brilliance in the past. This is the year Tennessee makes it back to a bowl for the first time since 2010. I have this as a major trap game for both Florida and Alabama, so both teams best look out. The Pride of the Southland is back in Knoxville, and it won't be long before Tennessee contends for a divisional title.
4. … but Vanderbilt does not.
What James Franklin did for the Vandy program is remarkable. Back-to-back winning seasons. Bowl appearances, victories over Florida and Georgia in the same season for the first time since the 1940s, and nationally ranked recruiting classes sealed his place as an up and coming coach. But, this year, things come crashing back to Earth.
Derek Mason will see the a rebuilding of a program, new playmaking schemes, and a painful adjustment period. Playing crossover games against SEC West dark horse favorites Ole Miss and at Mississippi State won't help either. The non-conference slate will certainly help the Commodores attain 4 wins, as will a game against Kentucky, but that other conference win will prove elusive as the Commodores miss their first bowl season since 2010.
5. LSU has a "down year" …
I am not sure an 8-4 season could be considered a "down" season anywhere but at a handful of schools (particularly in the SEC), but that's what happens in Baton Rouge this year. LSU doesn't rebuild; it reloads – this much is true. However, replacing your starting QB, two starting WR's, your star RB, and back-to-back years of NFL attrition makes that task infinitely harder. There is a plethora of staggeringly raw talent on this team, but contests at Big Ten contender Wisconsin, back-to-back road games at Auburn and Florida, and the annual scrum against Alabama (even in Tiger Stadium) should present a rocky road for a team deemed "untested" by Les Miles.
6. … and so does Missouri.
Speaking of lost talent, look to the Missouri Tigers. No Michael Sam swarming opposing offenses, no Dorial Green-Beckham downfield threat, no L'Damian Washington slicing up the inside, no Marcus Lucas as a good distraction for defenses. Maty Mauk is inheriting some lofty expectations. Road trips to hungry (and angry) SEC East contenders South Carolina, Florida, and Tennessee and home games against Georgia won't help the cause at all. An 8-4 or 7-5 season shouldn't be considered a "bad year" in Columbia, but that is what Mizzou faces in 2014. Mizzou won't have the element of surprise on their side this year, and while they will finish respectably, a return trip to Atlanta is not in the cards.
7. Starkville stops …
Quick, what's the best defense in the SEC you've never heard of? Answer: Mississippi State. The Bulldogs of The West return 19 of 22 defensive players, including preseason All-SEC corners Jamerson love and Taveze Calhoun, and stud safety Kendrick Market. The front four is sickeningly good, and will take advantage of a transitional year in the SEC. This team will win a game or two it shouldn't, at least on paper. I'm not sure if they can make Atlanta, but remember that you read it here first: Mississippi State will beat LSU, Auburn, and/or Alabama in 2014. The defense is too good, and the cowbells too loud, not to.
8. … and TD bombs fall all over Oxford.
Ole Miss, as previously mentioned, is a dark-horse of mine to win the SEC West this year, and challenges to make its first trip to Atlanta. The key will be Bo Wallace. I think he passes for 30 TD's this year, and why can't he? He has Laquon Treadwell and tight end Evan Engram as downfield threats, and Mark Dodson as the best running back not heavily covered by the preseason media since Mike Gillislee at Florida in 2012.
9. The SEC East is wide open …
The SEC East hasn't been this open for the taking in a long, long time. South Carolina returns Mike Davis at RB, but Carolina Head Coach Steve Spurrier will be breaking in a new QB in Columbia. He'll also be trying to find an answer for the departure of the conference's biggest defensive freak in a generation, Jadaveon Clowney.
Georgia is breaking in new QB Hutson Mason and trying to keep stud RB Todd Gurley healthy. There's also defensive guru Jeremy Pruitt making his debut as a coordinator in Athens.
Florida is trying to right the ship and return the favors after last year. It has a new offensive coordinator and the talent to challenge for the crown.
And lest we forget that last year Missouri came out of nowhere to claim the division for itself.
Suffice to say, I don't think this will be decided early in the season. My pick is that the Florida-South Carolina and/or Florida-Georgia matchups decide the division, and that the Gators make a return trip to Atlanta for the first time since 2009.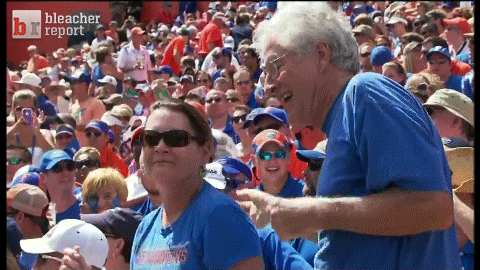 10. … and so is the SEC West.
For as much as you've read about Alabama and Auburn, they are not alone in determining the SEC West title. Sure, the Iron Bowl will most likely be the game of the year and punch a ticket (for someone) to head to the Georgia Dome. But, LSU is never a team to count out as long as the Mad Hatter roams the sidelines. Ole Miss and Mississippi State should play dark horse or kingmaker, as I said, and Texas A&M might play spoiler with a game or two as well. I actually have Alabama winning the Iron Bowl, being upset by Ole Miss, who punches their ticket to the ATL.
Less than a week until college football is here, folks! I know you can't wait either. SEC! SEC! SEC!