The first three rounds of March Madness are in the books, and the stage has been set for what promises to be an incredible Sweet 16. We have Cinderella teams (Dayton), complete teams (Florida), rising teams (Tennessee), and a rivalry showdown for the ages (Kentucky vs. Louisville). If you want story lines, the next round of the NCAA Tournament has got them, and then some.
We have rounded up 16 very sweet facts to preview the upcoming Sweet 16:
SEC is first conference to go 7-0 or better entering the Sweet 16 since the Big East in 2003 (8-0).
No Big East teams are in the Sweet 16 for just the third time since the conference was formed. Other years were 1986 and 1993.
Florida is the only team to have appeared in the last four Sweet 16s.
The Gators haven't won a basketball title without beating UCLA in the tournament, which is their Sweet 16 matchup.
Kentucky and Louisville have met 5 times in the postseason. The Wildcats hold a 3-2 series lead, with the last win coming in the 2012 Final Four.
Dayton coach Archie Miller worked under Arizona coach and brother Sean Miller from 2009-11.
This Sweet 16 marks only the second time since the tournament expanded in 1985 that neither Duke nor North Carolina made it out of the first weekend when both were in the tourney.
Conference breakdown: SEC (3), Pac-12 (3), Big Ten (3), Big 12 (2), AAC (2), MWC (1), Atlantic 10 (1), ACC (1).
Kentucky has the most NCAA Tournament appearances with 53.
Baylor has the least amount of NCAA Tournament appearances out of the teams remaining with 8. San Diego State has two more with 10, and Dayton has a total of 15.
Championships won by teams remaining: UCLA (11), Kentucky (8), Louisville (3), UConn (3), Florida (2), Michigan State (2), Arizona (1), Michigan (1), Stanford (1), Wisconsin (1).
San Diego State, Iowa State, Virginia and Tennessee are the only teams remaining to have never played in the title game.
Jarnell Stokes (Tennessee) and Julius Randle (Kentucky) lead the nation with 22 double-doubles.
Kentucky beat Louisville in their matchup during the regular season, 73-66, but the Cardinals open as a 5-point favorite over the Wildcats.
Dayton coach Archie Miller's wife is the sweetheart of the Sweet 16.
Fred Hoiberg's dance moves are the sweetest, and his daughter doesn't even currrr.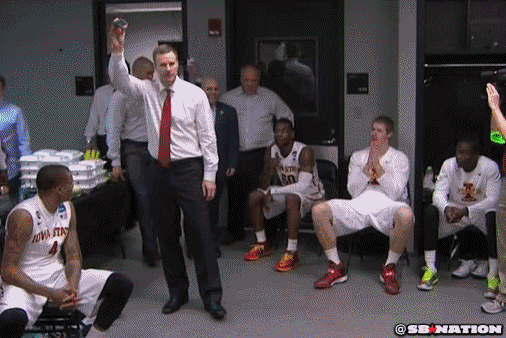 [Info from ESPN Stats & Info, Wikipedia used in this post; GIF SB Nation]