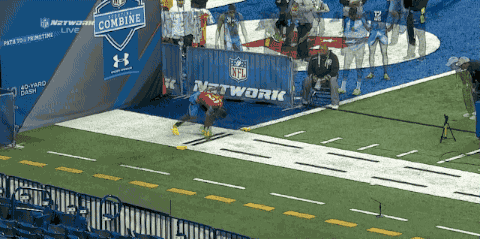 GIF courtesy Bleacher Report
The skill position players put their speed to the test at the 2013 NFL Combine on Sunday, and two young speedsters did not at all disappoint.
Everyone knew that West Virginia's Tavon Austin was an absolute burner, and Texas' Marquise Goodwin was in the Olympics in London, so he is no slouch either.
However, no one foresaw both running a blistering 4.25-seconds in the 40-yard dash. The time is literally one-hundredths of a second off the fastest officially recorded, by Chris Johnson and Rondel Melendez, at 4.24. This GIF is pretty slick, because it shows both of the guys running on the same track. Austin is in the red and Goodwin is in the blue top.