A scary moment during Texas' Wednesday night sweep of Houston may wind up going down in trivia history as well. Rookie Max Stassi, in a terrifying moment, got hit in the face by a 96 mile per hour Tanner Scheppers' fastball during the eighth inning.
Because the bases were loaded at the time, he officially recorded his first career RBI in what eventually wound up being a 5-4 Rangers victory.
Manager Bo Porter provided ESPN with all he knew at the time. It wasn't much, but it was optimistic.
He's at the hospital right now and we will get a full report when they run all the tests, but we do not have any updates right now. But it was a scary situation. I think it hit him in the shoulder and then in the face, so that probably lessened some of the blow. It was frightening. They brought him straight in and took him to the hospital.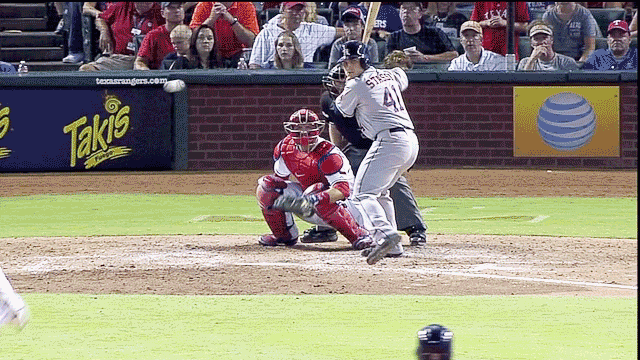 Hopefully Porter's assessment that Stassi's shoulder took the brunt of the pitch's force is accurate. Only a day prior to this, Altanta Braves outfielder Jason Heyward was hit in the face by a fastball and suffered a broken jaw. He will likely miss the rest of the regular season.
Stassi's hit-by-pitch is included in ESPN's postgame report:
[GIF via BroBible, H/T: Bleacher Report]